12 January 2023
Eco-Centric Lighting
Eco-Centric Lighting is our approach to lighting external spaces whose goal is to safeguard biodiversity and the well-being of humanity.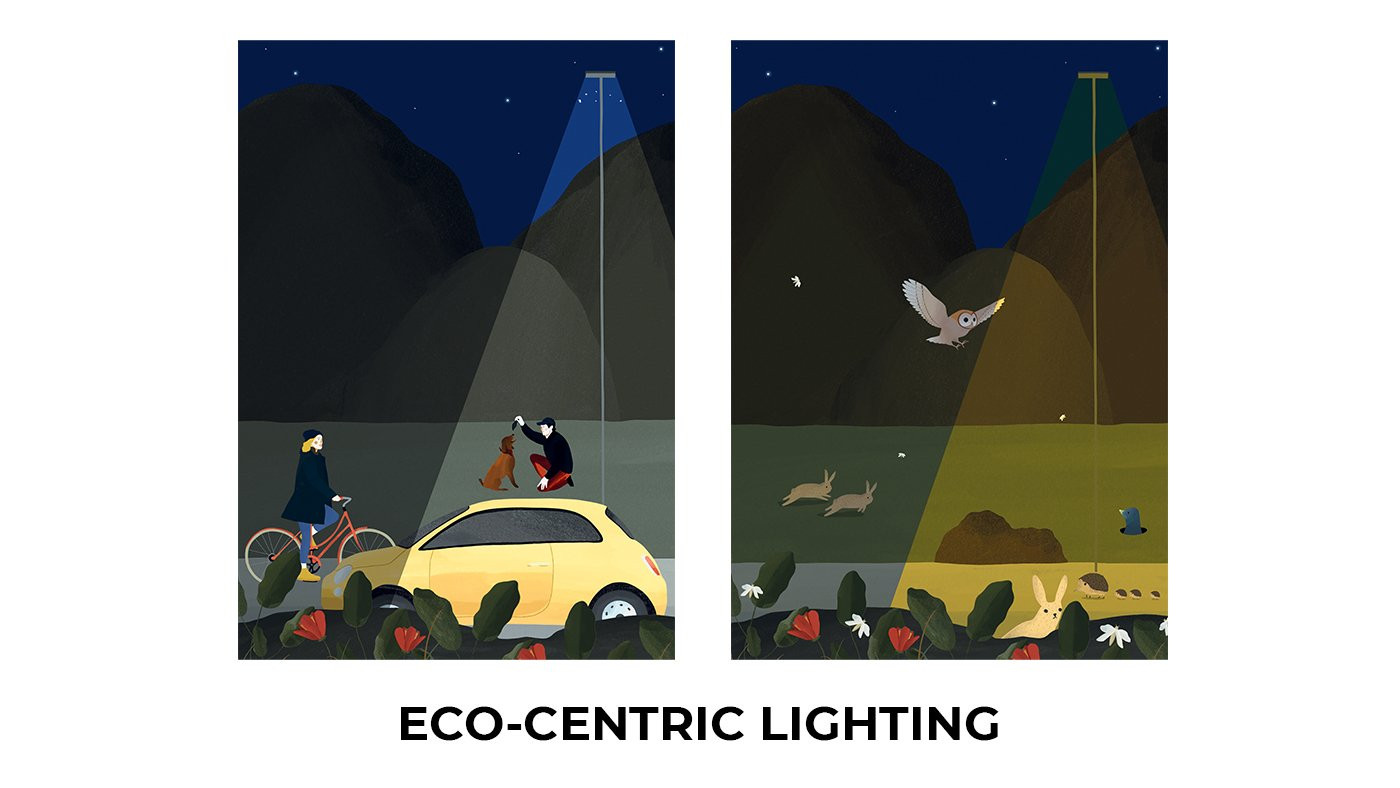 When not properly used, night-time artificial lighting, which is vital for people to inhabit outdoor space from dusk to dawn, can pose a threat to ecosystems. Flora and fauna, in fact, depend on the earth's daily cycle of light and darkness to govern the different actions that sustain life, such as reproduction, nutrition, sleep and protection from predators.
Eco-Centric Lighting is our approach to lighting external spaces whose goal is to safeguard biodiversity and the well-being of humanity.
Cariboni Group has always sought to care for and conserve the environment. For this reason, the company has developed three solutions that can render lit space safe and comfortable, not only for human beings, but for the whole of nature:
Dark Friendly Light

Blue Free Light

Switchable White Light
Dark Friendly Light
Every place is different and deserves its own light. There is no universally right light. So, every lighting project should conduct an accurate analysis of the context and assess a wide range of factors to define the correct priorities. Our Dark Friendly optic systems, available with a 2200K, 3000K and 4000K colour temperature, can prevent undesired emissions and, thanks to the integration with timers, remote control devices and external environment detection sensors can reduce light intensity when traffic is low or visibility is good.
Blue Free Light

An amber light that protects the natural ecosystem and generates a warm and welcoming atmosphere for people by minimising the blue content of the light emission. Blue Free Light optic systems, which emit a wider spectrum of colours with greater energy efficiency than monochrome amber LEDs, represent the right balance between safeguarding biodiversity and people's wellbeing and energy saving. This solution is ideal for lighting spaces and paths of significant ecological interest, mainly used by pedestrians or cyclists: protected areas, wildlife parks, hiking trails, woods or beaches.
Switchable White Light

Optical systems in Switchable White allow to alternate between a very warm light with a low blue content (CCT=1800K), which protects flora and fauna, and a warm light with a moderate blue content (CCT=3000K), which improves human visual performance when traffic is heavy. This technology is therefore ideal for illuminating hybrid spaces and paths: areas of environmental interest that are also travelled by vehicles, such as rural areas, suburban cycle paths, parks, coastlines or areas bordering protected areas and nature reserves.
At times when vehicle traffic is heavier, a higher colour temperature will be used, corresponding to a higher light intensity. Timers can be used at times of low utilisation of the illuminated area, which reduce the colour temperature and/or light intensity. Programming can be pre-set or remotely managed with wireless remote-control systems conforming to Zhaga standards. If, on the other hand, vehicular traffic is not time-constrained, motion sensors can be used that detect traffic conditions in real time and adjust the colour temperature and/or light intensity to the actual need. Here too, detection is carried out by Zhaga standard devices.
For more information download the brochure.